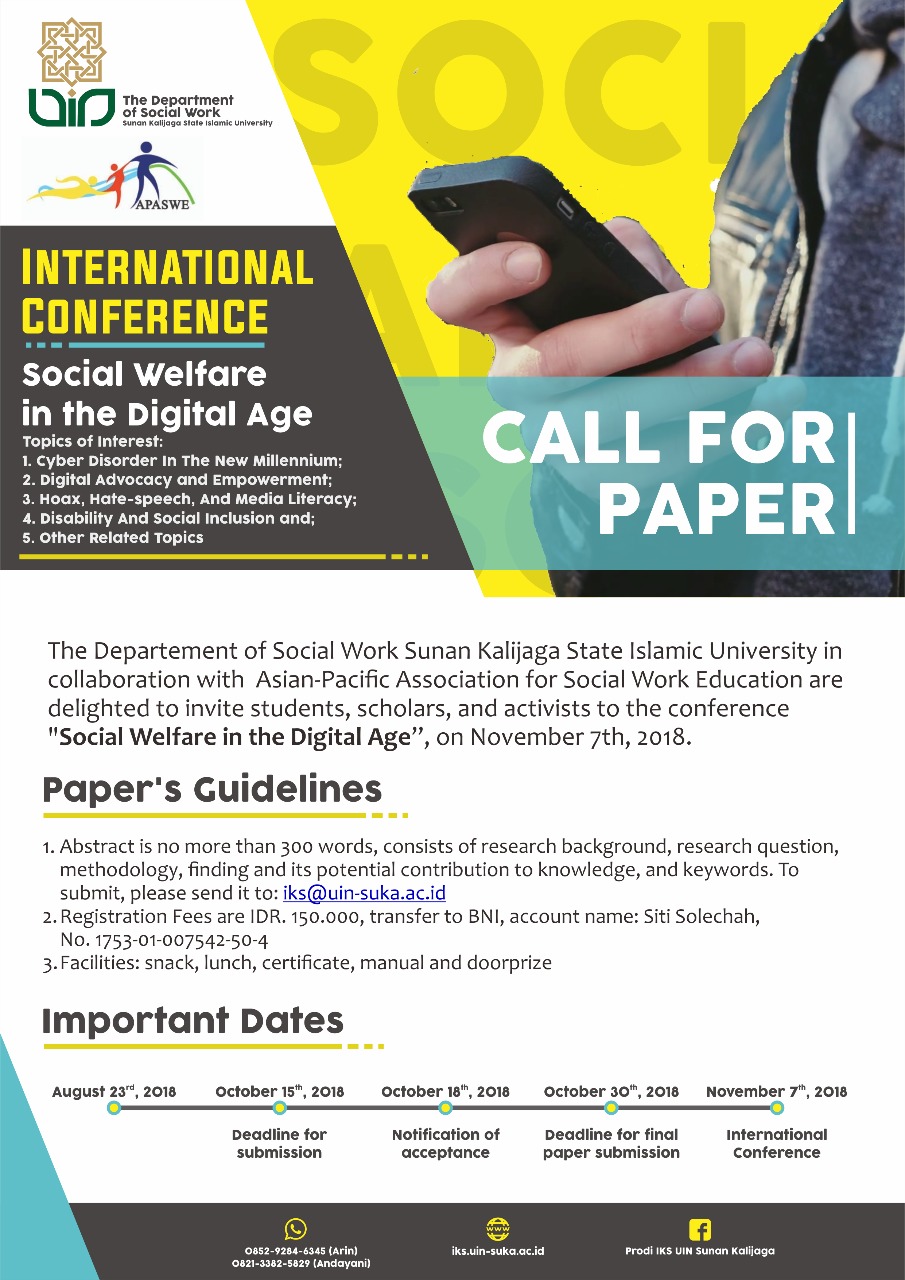 CALL FOR PAPER
It is a pleasure to invite you to International Conference under the theme "Social Welfare in the Digital Age: Challenges, Opportunities and Implications". The conference is organized by Social Welfare Department, UIN (State Islamic University) Sunan Kalijaga Yogyakarta Indonesia and will be held in Prof. Soenarjo Bulding UIN Sunan Kalijaga on November 7th, 2018.
Topics of interest:
1. Cyber Disorder In The New Millennium; 2. Digital Advocacy and Empowerment; 3. Hoax, Hate-speech, And Media Lliteracy; 4. Disability And Social Inclusion and; 5. Other Related Topics.
Guide for authors
1.Abstract is no more than 300 words, consists of research background, research question, methodology, finding and its potential contribution to knowledge, and keywords. To submit, please send it to: iks@uin-suka.ac.id
2. Registration Fees are IDR. 150.000, please transfer to BNI, account name: Siti Solechah, No. 1753-01-007542-50-4
3. Facilities: snack, lunch, certificate, manual and doorprize.
Important Dates:
Deadline for submission: October 15th, 2018
Notification of acceptance: October 19th , 2018
Deadline for final paper submission: October 30th, 2018
For all general enquiries, please contact: Arin, HP. 085292846345; Andayani HP. 082133825829 or send email to iks@uin.suka.ac.id
Looking forward to seeing you at the conference.
Sincerely,
Andayani
Head of Social Welfare Departement